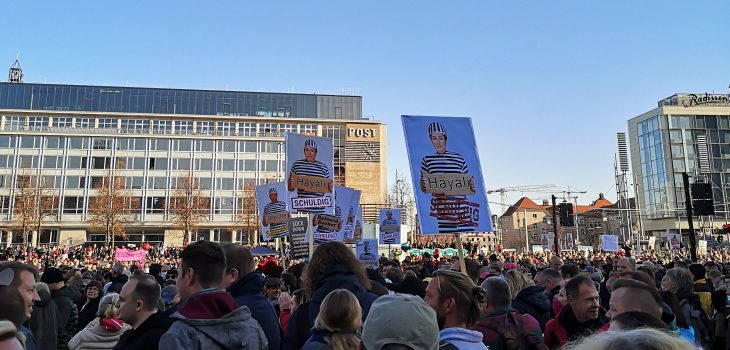 Police and protesters target journalists and media workers in Leipzig protest
MFRR partners EFJ and ECPMF condemn the attempts to prevent journalists and media workers from carrying out their work at a recent protest in Leipzig against the Government's response to the COVID-19 pandemic. 
At least, 43 journalists were prevented from carrying out their work by protesters and police officers at the "Querdenken" demonstration in the eastern German city of Leipzig on Saturday, 7 November. The European Federation of Journalists (EFJ) and European Centre for Press and Media Freedom (ECPMF) strongly condemn the violence and call again on the German police to do its utmost to protect journalists covering demonstrations.
The demonstration was attended by around 20,000 protesters according to German media – including people criticising the Government's response to the COVID-19 pandemic, as well as people from far-right parties including extremist National Democratic Party of Germany (NPD). Many were not wearing face masks and flaunted social distancing rules. As the protest was stopped by the police due to the unexpected number of participants, a number of protesters clashed with police, which also involved targeting journalists on assignment.