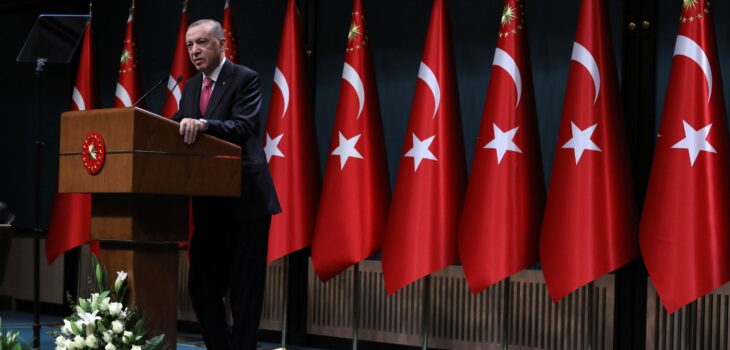 Turkey: Broadcast regulator must stop punishing critical reporting ahead of elections
The partners of the MFRR have joined 20 press freedom, freedom of expression and human rights organisations to call on Turkey's broadcast regulator (RTÜK) to immediately stop fining broadcasters for their critical reporting. Journalists and broadcasters must be allowed to do their jobs of informing the public over critical issues and holding the government to account.
Available in Turkish here.
Instead of upholding freedom of expression and media pluralism in the country, RTÜK is being weaponised by the governing parties to silence legitimate criticism and provide them with an unfair advantage in the May 2023 elections. This suppression of public debate is undermining the electoral process.
On April 5, 2023, İlhan Taşcı, a CHP-nominated member of the Radio and Television High Council (RTÜK), reported on Twitter that RTÜK had once again fined several news channels over critical content.
FOX TV was fined three percent of its monthly ad revenue after news anchor Gülbin Tosun criticized the government's approach to women's rights by saying "the ruling alliance does not want you to work or study, but to have babies and stay at home" during a live broadcast. Tosun had been targeted by members of the ruling AKP party, following her comments.
RTÜK imposed the same penalty on Halk TV for "preventing the free formation of opinion" after a presenter and her guest cited a news article claiming that Turkey's Disaster Management Authority (AFAD) had charged earthquake survivors to hire out its machinery to help rescue their relatives from the rubble.
TELE1 was also fined three percent of its monthly ad revenue for "humiliating a municipality" after the hosts of "18 Dakika" program criticized the AKP-ruled Şanlıurfa Municipality and cited allegations that the municipality had transferred funds, provided by foreign governments to Turkey, to the Taliban in Afghanistan.
These fines come on the back of a series of penalties already issued in February 2023 imposed on Halk TV, TELE1, and FOX TV and in March 2023 against Halk TV, TELE1, FOX TV, Show TV, and Yıldız EN TV. RTÜK also imposed temporary bans on numerous programs because of their critical coverage.
In 2022 RTÜK issued 54 penalties to five independent broadcasters totalling 17.335.000 Turkish Lira (approximately 823.000 Euros) of fines. By contrast, pro-government channels received a total of four penalties totalling 1.674.000 TL (approximately 80.000 Euros).
The government's censorship is not limited to domestic news channels as, earlier in March 2023, the Ministry of Industry and Technology did not renew the operating license of German broadcaster Deutsche Welle's (DW) Turkish service after it was blocked in June 2022 at the request of RTÜK. DW is no longer able to operate in Turkey as a legal entity, forcing its reporters and editors to continue working as freelancers, deprived of stable work contracts and social security benefits.
We view these incidents as part of the Turkish government's systematic attempt to stifle critical reporting and to control the information flow ahead of Turkey's presidential and parliamentary elections on May 14, 2023.
We call on the Turkish broadcast regulator, RTÜK, to immediately end the persecution of independent broadcasters and act according to its mandate to secure freedom of expression and media pluralism in the country.
Türkiye: Uluslararası gruplar, seçim öncesinde eleştirel haberlerin cezalandırılması nedeniyle RTÜK'ü kınadı
Medyanın baskı altına alınması toplumun bilgiye erişimini engellemekte ve seçim sürecinin meşruiyetini zayıflatmaktadır 
Uluslararası Basın Enstitüsü (IPI) ve 19 medya özgürlüğü, ifade hürriyeti ve insan hakları alanında faaliyet gösteren örgütler, Türkiye'nin yayın düzenleyici kurumu Radyo ve Televizyon Üst Kurulu'na (RTÜK), eleştirel haberlerinden dolayı yayıncılara para cezası vermeyi derhal durdurması çağrısında bulunmaktadır. Gazetecilerin ve yayıncıların eleştirel konularda kamuoyunu bilgilendirme ve hükümetten hesap sorma yükümlülüklerini yerine getirmelerine izin verilmelidir. 
RTÜK, ülkede ifade hürriyeti ve medya çoğulculuğunu desteklemek yerine, meşru eleştirileri susturmak ve 14 Mayıs 2023 seçimlerinde kendilerine haksız bir avantaj sağlamak için iktidar ittifakı tarafından bir araç olarak kullanılıyor. Kamusal tartışmanın bu şekilde bastırılması seçim sürecini baltalamaktadır.
Radyo ve Televizyon Üst Kurulu'nun (RTÜK) CHP'li üyesi İlhan Taşçı, 5 Nisan 2023 tarihinde Twitter'da RTÜK'ün eleştirel içerikler nedeniyle bazı haber kanallarına bir kez daha ceza verdiğini bildirdi.
FOX TV, haber sunucusu Gülbin Tosun'un canlı yayında "iktidar ittifakı çalışmanızı, okumanızı değil, çocuk doğurup evde oturmanızı istiyor" diyerek hükümetin kadın haklarına yaklaşımını eleştirmesinin ardından aylık reklam gelirinin yüzde üçü oranında para cezasına çarptırıldı. Tosun, yorumlarının ardından iktidardaki AKP üyeleri tarafından hedef gösterilmişti.
RTÜK, bir sunucu ve konuğunun, Afet ve Acil Durum Yönetimi Başkanlığı'nın (AFAD) depremzedelerden yakınlarını enkaz altından kurtarmak için iş makinelerini kiraladığını iddia eden bir habere atıfta bulunmasının ardından Halk TV'ye de "kanaatlerin serbestçe oluşmasını engellediği" gerekçesiyle aynı cezayı verdi.
TELE1 ayrıca, "18 Dakika" programının sunucularının AKP'li Şanlıurfa Belediyesi'ni eleştirmesi ve belediyenin yabancı hükümetler tarafından deprem yardımı için Türkiye'ye sağlanan fonları Afganistan'daki Taliban'a aktardığı iddialarını dile getirmesi üzerine "belediyeyi küçük düşürmek" suçundan aylık reklam gelirinin yüzde üçü oranında para cezasına çarptırıldı.
Bu cezalar, Şubat 2023'te Halk TV, TELE1 ve FOX TV'ye ve Mart 2023'te Halk TV, TELE1, FOX TV, Show TV ve Yıldız EN TV'ye verilen bir dizi cezanın ardından geldi. RTÜK ayrıca, eleştirel yayınları nedeniyle çok sayıda programa geçici yasaklar getirmiştir.
RTÜK 2022 yılında beş bağımsız yayıncıya toplam 17.335.000 Türk Lirası (yaklaşık 823.000 Avro) para cezası olmak üzere 54 ayrı ceza vermiştir. Buna karşılık, iktidara yakın kanallara toplamda 1.674.000 TL (yaklaşık 80.000 Avro) tutarında dört ceza almıştır.
İktidar sansürü yerel haber kanallarıyla sınırlı değil; Sanayi ve Teknoloji Bakanlığı, RTÜK'ün talebi üzerine Haziran 2022'de yayını engellenen Alman yayın kuruluşu Deutsche Welle'nin (DW) Türkçe servisinin lisansını Mart 2023'te yenilemedi. DW artık Türkiye'de tüzel kişilik olarak faaliyet gösteremeyecek ve muhabirleri ile editörleri, istikrarlı iş sözleşmelerinden ve sosyal güvenlik yardımlarından mahrum olarak serbest çalışmaya devam etmek zorunda kalacak.
Bu olayları, Türkiye'de 14 Mayıs 2023 tarihinde yapılacak cumhurbaşkanlığı ve milletvekili seçimleri öncesinde, iktidarın eleştirel haberciliği engellemeye ve bilgi akışını kontrol etmeye yönelik sistematik girişiminin bir parçası olarak görüyoruz.
Yayın düzenleyici rolünü yürüten RTÜK'ü, bağımsız yayıncılara yönelik baskıya derhal son vermeye ve ülkede ifade hürriyeti ve medya çoğulculuğunu güvence altına alma vazifesine uygun davranmaya çağırıyoruz.
This statement was coordinated by the Media Freedom Rapid Response (MFRR), a Europe-wide mechanism which tracks, monitors and responds to violations of press and media freedom in EU Member States and candidate countries.