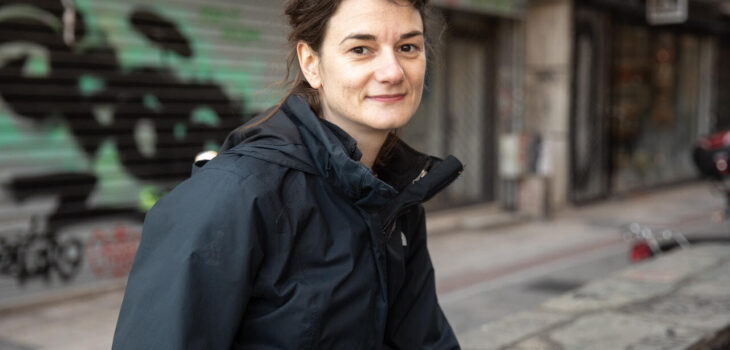 Greece: MFRR to fund legal appeal for lawsuit against Alterthess
The partner organisations of the Media Freedom Rapid Response (MFRR) today express dismay over the recent court ruling involving a SLAPP lawsuit against independent Greek media outlet Alterthess and one of its journalists, Stavroula Poulimeni. Using the MFRR Legal Support fund, our consortium will help provide funding to cover legal fees for their appeal.
In early 2023, a court in Athens partially accepted the civil lawsuit filed by the former high-ranking executive of a gold mining company, Hellas Gold, and ordered the cooperative media outlet to pay a total of €3,000 in damages to the plaintiff.
As previously reported, the lawsuit stemmed from a court report that Poulimeni had published in October 2020 regarding the first-instance criminal conviction of two executives from Hellas Gold over the company's alleged pollution of water sources in North Halkidiki. Following a first appeal, the convictions were initially confirmed at the Appeal Court in September 2021, as Alterthess reported at the time.
A month later in October 2021, one of the executives, Efstathios Lialios, filed a lawsuit based partly on the EU's General Data Protection Regulation (GDPR) regulation which demanded €100,000 in compensation, arguing that the journalist had defamed him and illegally violated his private data by publishing his full name and position when reporting the first-instance conviction. After a second appeal, both executives' convictions were then overturned by a higher court in May 2022, as Alterthess also reported at the time.
In 2023, the Court of First Instance in Athens dismissed Lialios' defamation allegation but sided with the plaintiff on the GDPR claim, awarding compensation for "moral damage". While the damages were significantly lower than the €100,000 originally demanded, we believe the implications of this ruling go far beyond money and touch upon principles fundamental to media freedom.
Firstly, in convicting a journalist for reporting details about a first-instance criminal conviction, the court's verdict undermines the principles of both open justice and court reporting. The trial in question was held in open session, without reporting restrictions, and the first-instance verdict was publicly announced in court. Reporting news about the conviction, including the individuals' names and positions, is standard journalistic practice across the world. The conclusion of the judge that the journalist should have sought the individual's consent for his name and position when this conviction is reported to be published is entirely unjustifiable.
Moreover, citizens living in Halkidiki and northern Greece have a right to receive timely information about individuals found guilty in the first-instance, especially when it involves a matter of serious public interest such as the pollution of water in their local area. The right of the media to publish such information therefore clearly outweighs a convicted individual's expectation of privacy. While the executives' guilty verdicts may later have been overturned on appeal, at that moment in October 2020 it was clearly in the public interest to report the first stage of the judicial process.
In ruling the other way, this judgment sets a dangerous legal precedent. As Poulimeni has rightly warned, if this verdict stands it could trigger a wave of similar lawsuits based on GDPR regulations to muzzle public interest media reporting and keep certain information secret. This ruling therefore risks encouraging other powerful individuals or companies to weaponise GDPR regulations to try and keep certain information or names out of the public domain. We believe this verdict therefore poses a threat to press freedom in Greece, which is already under considerable strain.
Through our Legal Support Fund, the MFRR organisations have therefore decided to provide funding to cover the legal fees required to challenge this verdict at the Court of Appeal in Athens. Moving forward, we hope the court will recognise the principles at stake here and ultimately overturn out this worrying first-instance verdict. Ensuring a just outcome will be important not just for Alterthess and Stavroula Poulimeni, but for all journalists carrying out similar watchdog reporting in Greece.
This statement was coordinated by the Media Freedom Rapid Response (MFRR), a Europe-wide mechanism which tracks, monitors and responds to violations of press and media freedom in EU Member States and candidate countries.