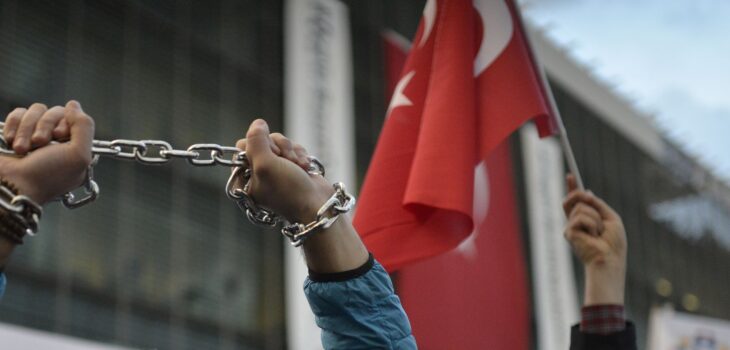 International groups call on Turkey's parliament to reject the "disinformation" bill as a tool of digital censorship
Twenty three international media freedom, freedom of expression and journalists' organisations today called for the immediate dismissal of the bill on "disinformation and fake news" which was submitted to the parliament on May 27 by the governing alliance of Justice and Development Party (AKP) and Nationalist Movement Party (MHP).
[Açıklamanın Türkçe çevirisi aşağıdadır]
The bill threatens up to three years imprisonment for those found guilty of the deliberate publishing of "disinformation and fake news" intended to instigate fear or panic, endanger the country's internal or external security, public order and general health of Turkey's society.
Such a bill, where the definition of disinformation and 'intent' is left so vague, puts millions of Turkey's internet users at risk of criminal action for posting information that the government disagrees with.
Placed in the hands of Turkey's highly politicized judiciary, the law would become another tool for harassing journalists and activists and may cause blanket self-censorship across the internet.
The bill would also increase any sentence by 50% where information is published from anonymous user accounts. This severely undermines anonymity on the internet and further intimidates those wanting to publish evidence of corruption and wrongdoing but are afraid of the consequences of being publicly identified. 
The governing alliance claim the bill is in line with the European Union's Digital Services Act and General Data Protection Regulation, however there are no such provisions under either of these laws. 
The law would also bring news sites under the Press Law (Basin Kanunu). This gives their journalists access to the official press accreditation and also to public advertising funds through the official Press Advertising Agency, Basin Ilan Kurumu (BIK). In practice however this will simply enable the government to fund pro-government news sites while banning critical media deemed to have breached the disinformation law.
In the drafting stage, the government reportedly organized a consultation with international digital platforms yet it failed to hold any meetings with media representatives, editors, journalism associations or unions, despite these groups, and their members, being the most affected by the legislation.
The draft bill is currently before the Parliament. However the role of parliament has been so heavily undermined by the Presidential system that the bill is being rushed through without proper scrutiny or debate and expected to be passed swiftly into law within days. 
Disinformation is an important issue and needs to be combatted but not at the price of restricting journalists' rights and the public's rights of freedom of expression. Any such initiatives should be developed in close consultation with media and other stakeholders and include sufficient safeguards for free speech and independent journalism that can prevent their abuse by the government to impose  arbitrary censorship.  
We, therefore, call on all Turkey's parliamentarians who believe in the parliamentary process and the free flow of ideas and information as central to a democratic society, to vote down this bill.
Uluslararası kurumlar, Türkiye meclisini dijital sansürün bir aracı olarak görülen "dezenformasyon" yasa tasarısına karşı çıkmaya çağırıyor.
Yirmi üç uluslararası basın özgürlüğü, ifade hürriyeti ve gazetecilik örgütü, Adalet ve Kalkınma Partisi'nin (AKP) ve iktidar müttefiki Milliyetçi Hareket Partisi (MHP) tarafından 27 Mayıs'ta meclise sunduğu "dezenformasyon ve yalan haber" konulu yasa tasarısının bugün yayınladıkları bir ortak açıklamayla derhal geri çekilmesi çağrısında bulundu.
Tasarıda, korku ve panik yaratmaya, ülkenin iç ve dış güvenliğini, kamu düzenini ve Türkiye toplumunun genel sağlığını tehlikeye atmayı amaçlayan "dezenformasyon ve yalan haber" kasıtlı olarak yayımlamaktan suçlu bulunanlar üç yıla kadar hapisle tehdit ediliyor.
Dezenformasyon ve 'niyet' tanımının bu kadar muğlak bırakıldığı böyle bir yasa tasarısı, Türkiye'de milyonlarca internet kullanıcısını iktidarın onaylamadığı bilgileri paylaştığı için cezai işlem riskiyle karşı karşıya bırakıyor.
Türkiye'nin son derece politize olmuş yargısının ellerine bırakılan yasa, gazetecileri ve aktivistleri taciz etmenin başka bir aracı haline gelebilir ve internette kapsamlı bir otosansüre neden olabilir.
Tasarı ayrıca, bilgilerin anonim kullanıcı hesaplarından yayınlandığı durumlarda herhangi bir hapis cezasını yüzde 50 oranında artıracaktır. Bu, internetteki anonimliği ciddi şekilde baltalar ve yolsuzluk ve görevi kötüye kullanmanın kanıtlarını yayınlamak isteyebilecek ancak kamuoyuna açıklanmanın sonuçlarına dair çekinceleri olan kişileri daha da korkutur.
İktidarda bulunan AKP ve MHP ittifakı, tasarının Avrupa Birliği'nin Dijital Hizmetler Yasası ve Genel Veri Koruma Yönetmeliği ile uyumlu olduğunu iddia ediyor, ancak bu yasaların kapsamında böyle bir hüküm bulunmuyor.
Kanun tasarısı, haber sitelerini de Basın Kanunu kapsamına almayı öngörüyor. Bu, internet ortamında faaliyet gösteren mecralara bağlı gazetecilere resmi basın kartı tahsisi sağlayacak ve ayrıca kurumlara da Basın İlan Kurumu (BİK) aracılığıyla kamu reklam fonlarına erişimi mümkün kılacak. Ancak uygulamada bu, iktidarın hükümet yanlısı haber sitelerini finanse etmesine ve dezenformasyon yasasını ihlal ettiği düşünülen eleştirel medyayı kısıtlamasına olanak tanıyacaktır.
Taslak aşamasında hükümetin uluslararası dijital platformlarla bir istişare düzenlediği, ancak mevzuattan en çok etkilenmesi beklenen bu gruplara ve temsilcilerine, medya temsilcileri, editörler, gazetecilik dernekleri veya sendikalar ile herhangi bir görüşme yapmadığı bildirildi.
Tasarı şu anda Meclis aşamasında. Ancak, Türkiye Büyük Millet Meclisi'nin rolü, Başkanlık sistemi tarafından o kadar ağır bir şekilde sarsıldı ki, yasa tasarısı uygun bir inceleme veya tartışma yapılmadan aceleye getirilmekte ve birkaç gün içinde hızla yasalaşması bekleniyor.
Dezenformasyon önemli bir konu ve mücadele edilmesi gerekiyor, ancak gazetecilerin haklarını ve kamuoyunun ifade hürriyetini kısıtlamak pahasına böylesi bir adım atılamaz. Bu tür girişimler, medya ve diğer paydaşlarla yakın istişare içinde geliştirilmeli ve hükûmet tarafından keyfi bir biçimde sansür uygulamak için bunların kötüye kullanılmasını önleyebilecek ifade hürriyeti ve bağımsız habercilik için yeterli güvenceleri içermelidir.
Bu nedenle, meclis aşamasında, demokratik bir toplumun temeli olarak ifade hürriyeti ve bilginin serbestçe dolaşabilmesine inanan Türkiye'deki tüm milletvekillerini bu tasarıyı reddetmeye çağırıyoruz.
This statement was coordinated by ECPMF and IPI as part of the Media Freedom Rapid Response (MFRR), a Europe-wide mechanism which tracks, monitors and responds to violations of press and media freedom in EU Member States, Candidate Countries and Ukraine.