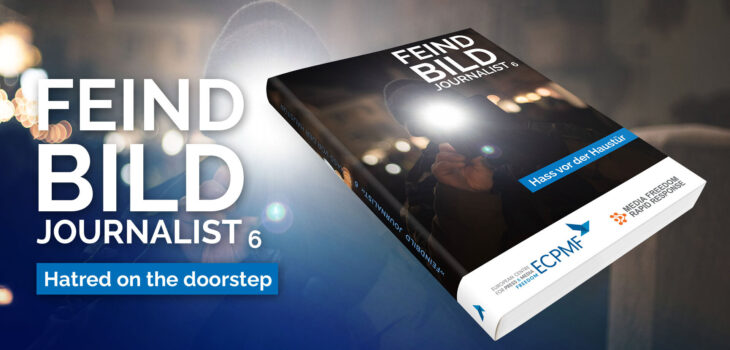 Feindbild Journalist 6 – Hatred on the Doorstep
(Leipzig, 14/06/2022) — The European Centre for Press and Media Freedom (ECPMF), as part of the Media Freedom Rapid Response, (MFRR) has published the English translation of the 2021 iteration of "Feindbild", an annual study into politically-motivated violence against journalists in Germany. "Feindbild 6 – Hatred on the Doorstep" was first published in German in April 2022.
Key findings: A new negative record
As part of the study, ECPMF recorded a record number of 83 physical attacks on journalists and media workers, an increase of 14 from the previous year. These attacks affected 124 media workers or teams, although the researchers assume that the number of unreported cases is high. Co-author of the report, Martin Hoffmann said:
Since we started recording cases in 2015, we have never verified so many violent attacks against media professionals as in 2021. Serious threats and physical attacks are part of the everyday work of more and more journalists. This does not remain without consequences. A growing number of journalists are therefore withdrawing from covering demonstrations.
Demonstrations and protests were the context in which attacks against the press happened most frequently in Germany. 75% took place at demonstrations of pandemic-related protest networks such as Querdenken.
As in previous years, Saxony remains the largest offender when it comes to politically-motivated violence against journalists, with 23 recorded incidents in 2021. However, this year marked an increase in the number of attacks taking place in western Germany.
The political background of the attackers in 2021 was highly varied. 39% of attackers came from right-wing perpetrators, 1% from the left, and 39% could not be attributed to any particular political stance.
Attacks increased towards the end of 2021, with 19 recorded in December and 18 in January 2022 — the highest number recorded in any two months since the start of the research in 2015.
Support from BDZV
For the first time, the German Federal Association of Digital Publishers and Newspaper Publishers (BDZV) supported the production of the Feindbild study. Speaking of the report's findings, Mr. Sigrun Albert, General Manager of BDZV said:
Unfortunately, the new Feindbild study confirms our assumption that local journalists are increasingly being targeted by violent attacks because of their work. Hateful attacks and massive digital threats are also at least as disturbing.
BDZV will partner with and support ECPMF to implement long-term monitoring of attacks facing journalists in Germany and to develop counter-measures in response. Dr. Lutz Kinkel, Managing Director of ECPMF, said:
What we need is more protection for media professionals, more consistent punishment of criminal offences, and more media literacy education. The partnership with BDZV enables us to explore and analyse the problems in the local space more intensively in the future. We are looking forward to the collaboration.
This report was coordinated by the Media Freedom Rapid Response (MFRR), a Europe-wide mechanism which tracks, monitors and responds to violations of press and media freedom in EU Member States, Candidate Countries and Ukraine.