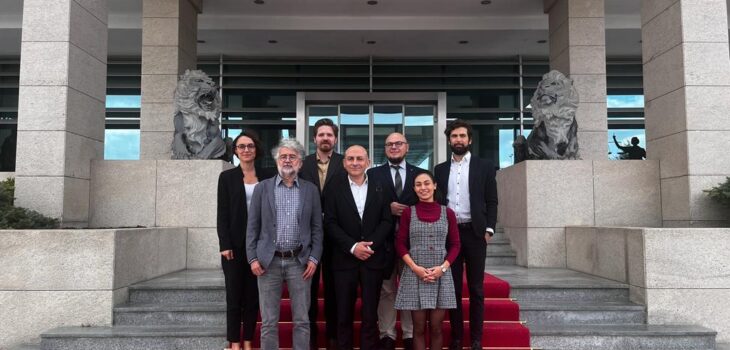 Turkey's press freedom crisis deepens amid earthquake and national elections
Turkey's press freedom crisis has deepened further in the last year. Journalists face steep harassment and intimidation for their work, including arbitrary imprisonment and prosecution. Those responsible for attacks and threats against the press enjoy alarming levels of impunity.
Turkish translation available here.
This year's parliamentary and presidential elections have brought no relief for press freedom. On the contrary, pressure continues to mount on critical journalists ahead of next year's municipal vote, including mayoral elections in Istanbul and Ankara. And the tragic February 2023 earthquakes laid bare efforts by authorities to control news and information, with local media being particularly targeted.
This week, five international media freedom and journalism organizations met with a range of key stakeholders in Turkey, including journalists, civil society groups, the Turkish Constitutional Court, the Radio and Television Supreme Council (RTÜK), and diplomatic representatives, including the EU Delegation, to discuss Turkey's media freedom crisis. The delegation also met with members of parliament of the Republican People's Party (CHP), Democracy and Progress Party (DEVA), Green Left Party (YSP), and Labor Party (EMEP). The delegation also monitored the trial of Tele1 Editor-in-Chief Merdan Yanardağ in Istanbul on October 4.
Led by the International Press Institute (IPI) and IPI's Turkey National Committee, the mission included representatives from the Committee to Protect Journalists (CPJ), the European Centre for Press and Media Freedom (ECPMF), Osservatorio Balcani e Caucaso Transeuropa (OBCT), and Reporters Without Borders (RSF).
The mission's requests for meetings with the Minister of Justice Yılmaz Tunç, Minister of Interior Ali Yerlikaya, head of the Turkish Parliament's Chair Human Rights Investigation Commission Derya Yanık, head of the Digital Platforms Commission Hüseyin Yayman, head of the Justice Commission Cüneyt Yüksel, RTÜK Chair Ebubekir Şahin and Fahrettin Altun, the head of Directorate of Communications, were left unanswered.  The mission regrets not having the opportunity to engage in dialogue with key public officials and public authorities responsible for upholding fundamental rights and the rule of law and ensuring media freedom and pluralism in the country.
A key topic of this year's mission was Turkey's disinformation law. Last year, the AKP head of the Human Rights Investigation Commission of the Turkish Parliament assured our delegation that disinformation law would not be used to punish journalists. But in the past year, at least 20 journalists were targeted (with three jailed) on the basis of the disinformation law, mainly in relation to coverage of the earthquake.
Physical safety remains an issue of grave concern. In meetings with journalists, the delegation heard alarming examples of threats to reporters' safety with authorities in some cases turning a blind eye, failing to uphold their duty to conduct an effective investigation and provide safety measures. Meanwhile, politicians, government authorities, and the courts continue to equate critical journalism with "terrorist propaganda", disinformation, or a threat to national security, further increasing journalists' physical and legal vulnerability.
Journalists targeted with legal harassment continue to face egregious violations of rule of law guarantees. The systematic use of pretrial detention for journalists has now become the norm, effectively resulting in punishment without conviction. Recent cases have seen Kurdish reporters jailed for over a year pending trial following mass arrests.
The granting of official press cards remains arbitrary – and their power is limited in the face of information control. Independent journalists fortunate to receive such cards reported that they were in some cases prevented by authorities from reporting in the earthquake zone despite providing their credentials. 
The Constitutional Court continues to issue important rulings in support of press freedom. However, it is hampered by a lack of resources, a failure by lower courts to implement the Court's rulings, and a failure by the Turkish Parliament to introduce legislation addressing systematic violations identified by the Court.
Local elections are due to take place in Turkey in March 2024. The free flow of independent news and information is an essential condition to any democratic election. We call on the government of Turkey to guarantee that journalists are able to do their work free of intimidation and harassment in particular during the election period. 
Finally, amid the continued crackdown by the Turkish authorities, the delegation notes with concern a pattern of visa denials, delays, and arduous procedures for Turkey journalists applying for visas to Europe. This trend undermines the ability of Turkey's journalists to build and sustain links to their peers abroad. The delegation calls on European governments and the EU to maintain firm and active support for Turkey's free press. In addition to strong and clear public support for independent journalists, this must include ensuring that journalists' applications for visas for professional purposes are fast tracked. 
Uluslararası heyet açıklaması: Türkiye'de basın özgürlüğü krizi deprem ve genel seçimlerin ortasında derinleşti
Beş uluslararası basın özgürlüğü ve gazetecilik kuruluşu Türkiye'deki basın özgürlüğü misyonunu tamamladı
Türkiye'nin basın özgürlüğü krizi geçtiğimiz yıl daha da derinleşti. Gazeteciler, keyfi tutukluluk ve kovuşturma dahil olmak üzere, mesleki faaliyetlerinden ötürü ağır tehditlerle karşı karşıya kaldı. Basına yönelik saldırı ve tehditlerden sorumlu olanlara karşı cezasızlık artarak devam etti. 
Bu yıl yapılan meclis ve cumhurbaşkanlığı seçimleri basın özgürlüğü açısından herhangi bir rahatlama getirmedi. Aksine, gelecek yıl yapılacak yerel seçimler öncesinde eleştirel gazeteciler üzerindeki baskı artmaya devam ediyor. Şubat 2023'te meydana gelen yıkıcı depremler sırasında yerel medyanın özellikle hedef alınması, yetkililerin haber ve bilgi akışını kontrol etmeye yönelik çabalarının açık bir örneğiydi.
Bu hafta, basın ve ifade özgürlüğü alanında çalışan beş uluslararası kuruluş; Türkiye'de gazeteciler, sivil toplum grupları, Anayasa Mahkemesi, Radyo ve Televizyon Üst Kurulu (RTÜK) ve Avrupa Birliği Türkiye Delegasyonu gibi pek çok paydaş ile ülkede medya özgürlüğünün içinde bulunduğu krizi görüşmek üzere toplantılar düzenledi. Heyet ayrıca Cumhuriyet Halk Partisi (CHP), Demokrasi ve İlerleme Partisi (DEVA), Emek Partisi (EMEP) ve Yeşiller ve Sol Gelecek Partisi (YSP) milletvekilleriyle de bir araya geldi.
Uluslararası Basın Enstitüsü (IPI) ve IPI Türkiye Ulusal Komitesi öncülüğündeki heyette Gazetecileri Koruma Komitesi (CPJ), Avrupa Basın ve Medya Özgürlüğü Merkezi (ECPMF), Osservatorio Balcani e Caucaso Transeuropa (OBCT) ve Sınır Tanımayan Gazeteciler (RSF) temsilcileri yer aldı.
Heyetin, Adalet Bakanı Yılmaz Tunç, İçişleri Bakanı Ali Yerlikaya, TBMM İnsan Haklarını İnceleme Komisyonu Başkanı Derya Yanık, Dijital Mecralar Komisyonu Başkanı Hüseyin Yayman, Adalet Komisyonu Başkanı Cüneyt Yüksel, RTÜK Başkanı Ebubekir Şahin ve Cumhurbaşkanlığı İletişim Başkanı Fahrettin Altun ile görüşme talepleri yanıtsız kaldı. Heyet, temel hakların ve hukukun üstünlüğünün korunmasından ve ülkede medya özgürlüğü ve medyada çok sesliliğin sağlanmasından sorumlu görevlileri ve kamu makamlarıyla diyalog kurma fırsatı bulamamaktan üzüntü duyuyor.
Bu yılki heyet ziyaretinin öne çıkan başlıklarından biri Türkiye'nin dezenformasyon yasasıydı. Geçen yıl TBMM İnsan Haklarını İnceleme Komisyonunun AKP'li başkanı, dezenformasyon yasasının gazetecileri cezalandırmak için kullanılmayacağı konusunda heyetimize güvence vermişti. Ancak geçtiğimiz yıl, başta deprem haberleriyle ilgili olmak üzere, en az 20 gazeteci dezenformasyon yasasına dayanılarak hedef alındı (üçü hapse atıldı).
Gazetecilerin fiziksel güvenliği ciddi bir endişe konusu olmaya devam ediyor. Heyet, gazetecilerle yaptığı görüşmelerde, muhabirlerin güvenliğini tehdit eden birçok endişe verici örnekle karşılaştı ve yetkililerin bazı durumlarda etkili bir soruşturma yürütme ve güvenlik önlemleri sağlama görevlerini yerine getirmek yerine bu tehditlere göz yumduklarını gördü. Aynı zamanda siyasetçiler, hükümet yetkilileri ve mahkemeler eleştirel gazeteciliği "terör propagandası", dezenformasyon veya ulusal güvenliğe tehditle eş tutmaya devam ederek gazetecilerin fiziksel ve yasal savunmasızlığını daha da artırdı.
Hukuki tacizin hedefi olan gazetecilerin yasal güvenceleri, ağır ihlallere maruz kalmaya devam ediyor. Gazetecilerin sistematik bir biçimde tutuklu yargılanması artık olağan bir hale geldi ve bu durum sıklıkla mahkûmiyet kararı olmaksızın cezalandırma ile sonuçlandı. Geçtiğimiz yıl görülen bazı davalarda, Kürt gazeteciler toplu gözaltıların ardından bir yıldan fazla tutuklu kaldı.
Resmi basın kartlarının kime verileceği konusundaki keyfi uygulamalar devam ediyor ve bu kartlar bilgi kontrolü karşısında sınırlı bir güce sahip. Basın kartı alma şansına sahip olan bağımsız gazeteciler, kimlik bilgilerini vermelerine rağmen deprem bölgesinde bazı durumlarda haber yapmalarının yetkililer tarafından engellendiklerini bildirdi.
Anayasa Mahkemesi (AYM) basın özgürlüğünü destekleyen önemli kararlar vermeye devam ediyor. Ancak, kaynak yetersizliği, alt mahkemelerin AYM kararlarını uygulamadaki başarısızlığı ve TBMM'nin AYM  tarafından tespit edilen sistematik ihlalleri ele alan mevzuatı yürürlüğe koymadaki yetersizliği nedeniyle AYM'nin çalışmaları sekteye uğruyor.
Bir sonraki yerel seçimlerin Mart 2024'te yapılması planlanıyor. Bağımsız haber ve bilginin serbest dolaşımı tüm demokratik seçimler için hayati bir koşul. Türkiye hükümetini, özellikle seçim döneminde gazetecilerin işlerini tehditlere ve ihlallere maruz kalmadan yapabilmelerini güvence altına almaya çağırıyoruz.
Son olarak heyet, Türkiye'de baskıcı koşullar altında çalışırken Avrupa'ya vize başvurusunda bulunan gazetecilerin vize reddi, gecikme ve zorlu prosedürlerine ilişkin endişelerini dile getiriyor. Bu eğilim, Türkiye'deki gazetecilerin yurtdışındaki meslektaşlarıyla bağlantı kurma ve sürdürme imkanlarını azaltıyor. Heyet, Avrupa hükümetlerine Türkiye'deki özgür basına yönelik kararlı ve aktif desteklerini sürdürmeleri çağrısında bulunuyor. Bağımsız gazetecilere yönelik güçlü ve belirgin desteğinin yanı sıra, gazetecilerin mesleki amaçlarla yaptıkları vize başvurularının hızlı bir şekilde işlem görmesi de bu desteğin bir parçası olmalı.
This statement was coordinated by the Media Freedom Rapid Response (MFRR), a Europe-wide mechanism which tracks, monitors and responds to violations of press and media freedom in EU Member States and candidate countries.