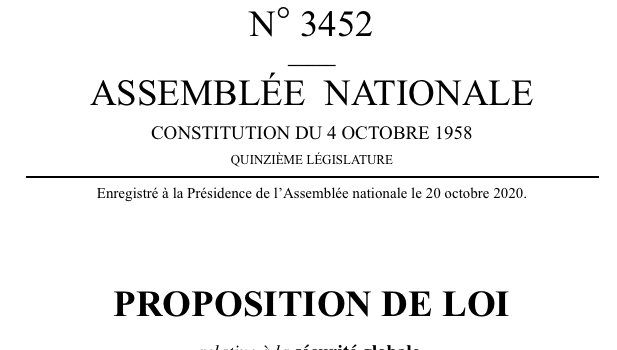 France tramples on press freedom
MFRR partners join International and European Federations of Journalists (IFJ-EFJ), and their French affiliates, the SNJ, SNJ-CGT, CFDT-Journalists calling on the French Prime Minister, Jean Castex, to withdraw three articles from the "Global Security" law 
As the vote on the first reading of the "Global Security" law achieved a majority in the French National Assembly on Tuesday 24 November, the International and European Federations of Journalists (IFJ-EFJ), as well as other representatives from the Media Freedom Rapid Response (MFRR) called on the French Prime Minister, Jean Castex, to withdraw three articles from the text, and on journalists and democracy activists to demonstrate on Saturday 28 November.
The draft law on Global Security was tabled by two deputies from the government majority and  secured a majority vote (388 votes for, 104 against) in the National Assembly on Tuesday 24 November. It seeks to amend the law of 29 July 1881 on freedom of the press as follows: "The act of disseminating by any means whatsoever and whatever the medium, with the aim of harming his physical or mental integrity, the image of the face or any other element of identification of an official of the national police or a military member of the national gendarmerie when he acts as part of a police operation is punishable by one year's imprisonment and a fine of 45,000 euros."
The IFJ, EFJ, their affiliates in France and the MFRR consider that this law is contrary to international legal standards on freedom of expression and disproportionately restricts the rights of journalists and press freedom.