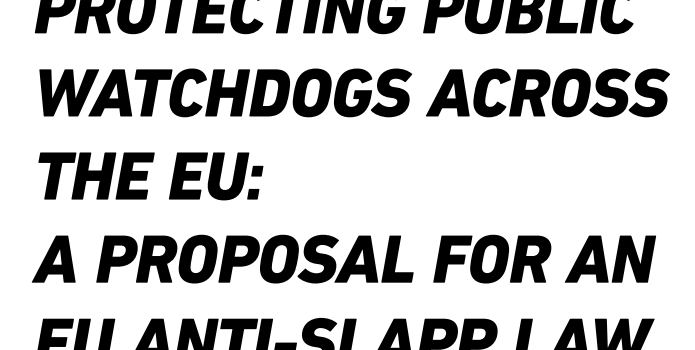 Protecting public watchdogs across the EU: A proposal for an EU anti-SLAPP law
MFRR partners are among 60 organisations coming together to demonstrate what an Anti-SLAPP directive for the EU would look like
SLAPP suits are a form of legal harassment. Pursued by law firms on behalf of powerful individuals and organisations who seek to avoid public scrutiny, their aim is to drain the target's financial and psychological resources and chill critical voices to the detriment of public participation.
This paper was drafted at the initiative of a coalition of non-governmental organisations from across Europe that have been working together over the past years to raise awareness and urge policy makers to protect public watchdogs such as journalists, rights defenders, activists and whistleblowers from Strategic Lawsuits Against Public Participation (SLAPPs).
As democracy and the rule of law come increasingly under pressure in a number of member states, this paper supports the call on EU policymakers by the undersigned organisations to urgently put forward an EU anti-SLAPP Directive to protect public watchdogs that help hold the powerful to account and keep the democratic debate alive.