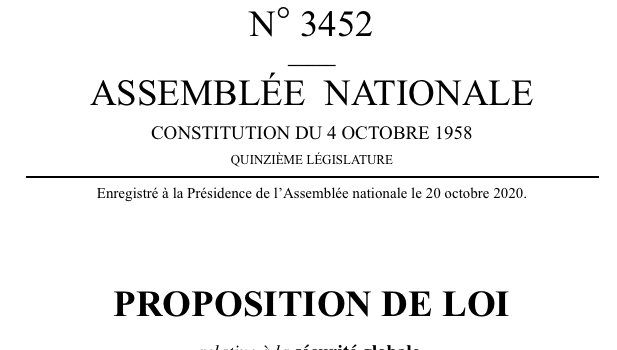 France: new draft law would make it illegal to publish images of police and gendarmes at work
ECPMF and EFJ, as part of the MFRR, with French unions SNJ, SNJ-CGT, CFDT-Journalistes, are concerned about a legislative proposal pending in the French parliament, which would make it illegal to disseminate images of law enforcement officers of the national police and gendarmerie.
Legislative proposal No. 3452 on global security was introduced by Members of Parliament of the presidential majority on 20 October 2020. The text proposes a host of legislative changes that purport to address the "new challenges for French security" and strengthen law enforcement to this end. In article 24, the legislative proposal advances the amendment of the 1881 law on press freedom, to add a provision (new Art. 35 quinquies) that would make it punishable by one year of imprisonment and a fine of 45 000 euro to disseminate, with the intent of causing psychological or physical harm, an image of the face or any other element that could identify a law enforcement officer in the course of exercising his or her duty.
ECPMF, EFJ and the unions who joined this statement call  on the members of Parliament to delete the proposed text.