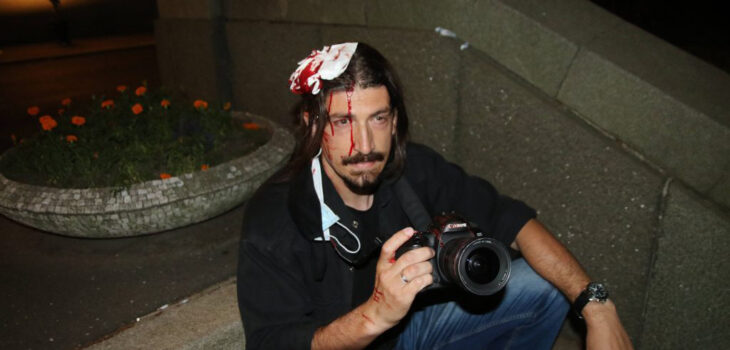 Serbia: Media freedom and journalists must be protected. Findings from the 2021 MFRR Mission
MFRR Report: Concerns about safety of journalists and media workers in Serbia predate Covid-19 outbreak
Article 19 led report summarises findings of international press freedom mission
While minimal progress such as positive state initiatives prompted by international pressures could be identified, the report raises major concerns about the safety of journalists in Serbia, the polarisation of the media landscape through public officials and pro-goverment tabloids and the suppression and attacks on independent media outlets. The report further includes urgent recommendations for the Serbian government to improve media freedom and safety of journalists.
Key Findings
The safety of journalists has increasingly become a serious concern in Serbia. The COVID-19 pandemic has exacerbated an already difficult situation. Those involved in attacks against journalists and media workers include public officials and the police. Key cases of concern include police brutality against demonstrators and journalists during the July 2020 protests and the arrest of journalists. Concerns over journalists' protection predates the COVID-19 outbreak.
Historical cases of journalists' murders in Serbia remain unresolved. The Commission for the Investigation of Murders of Journalists includes the killings of journalists Slavko Ćuruvija, Milan Pantić and Dada Vujasinović as priority cases for the police to investigate and resolve. In Ćuruvija's case, a re-trial started in September 2020, overturning the 2019 convictions of four former Serbian State Security officers involved in the journalist's killing. The Serbian government should enhance cooperation with relevant authorities to shed light on the killing of a group of 15 Serbian and Albanian journalists and two German reporters in Kosovo between 1999 and 2001.
Threats: Of particular concern are cases of politicians or public officials openly threatening journalists, targeting and defining them as "enemies of the State" or "traitors".  These are normally accompanied by threats, coordinated online harassment or even physical violence.
Online harassment and smear campaigns are of growing concern for the safety of journalists. These usually follow verbal attacks by politicians targeting journalists and are carried out through anonymous websites or social media accounts. Online harassment generates deep insecurity and uncertainty unsafety amongst journalists, who may self-censor fearing for their safety in the absence of adequate protection from the State. Women journalists are targeted by specific forms of online harassment of sexual nature or involving threats against their family members.
A heavily polarised media landscape between pro-government tabloids and independent media mirrors a divided political landscape. In the absence of parliamentary opposition to the current ruling party, after a boycott during the latest parliamentary elections, independent media are often perceived as political opponents, with some being banned from attending to events of public importance.