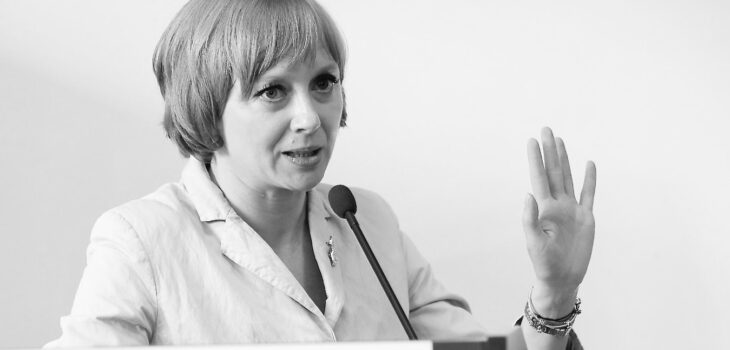 Romania: In conversation with investigative journalist Emilia Șercan
Investigating academic fraud committed by Romanian public figures. This is Emilia Șercan's expertise. Freelance investigative journalist and senior lecturer at the University of Bucharest, she has been targeted by a renewed campaign of discreditation after her revelations that the Minister of Interior had plagiarised his PhD thesis. Unlike one year ago, when she was targeted by a jarring kompromat campaign involving the leaking of evidence from the Criminal Investigation Services, this time the smear campaign appears to be politically directed by one of the Romanian ruling parties.
Interview conducted by Sielke Kelner, Researcher and Advocacy Officer at OBC Transeuropa.
You have been facing a lot of pressure in the past three months. How are you holding up?
I am very tired because I have experienced a horrible time. I wish I had a couple of  days to catch my breath. I feel it is getting harder and harder to cope with the consequences of the misconduct of the Romanian justice system and politicians.
We spoke last November, and back then you had mentioned to me you were working on an investigative piece and a few weeks later, I saw your article on Lucian Bode. Did this new smear campaign start right after the publication of your article?
Yes, it did. This new wave of pressure came after I wrote about the doctoral thesis of the Minister of the Interior, Lucian Bode. The degree of confrontation and hostility I have been facing this time signalled a new peak of aggression characterising the Romanian public space. A multitude of websites, including media outlets which receive public funding, as well as outlets run by former journalists who are now political members of the National Liberal Party, have launched a series of attacks to discredit me, spreading the rumour that I want to run for the Presidency of Romania. They claim that this is the reason why I have committed to writing about the doctoral theses of a number of politicians. They have been trying as well to tie my journalistic approach to a political party, although I have no political affiliation or sympathies. I have publicly expressed that I have not the slightest connection with any political party. Nevertheless, they implied that this is in fact a political attack on Minister Lucian Bode. To be sure, I have been investigating academic fraud for the past eight years. For the past eight years, I have been properly doing my job as a journalist, not because I had any political interest. After having been subjected to a set of intimidations, pressure, death threats and attempts to compromise, now they have devised another way of discrediting my work by saying that I intend to run for president. They profiled me, insinuating I mirror Maia Sandu, the President of the Republic of Moldova. Just like her, they claim, I am a small, fragile woman with a political agenda. Let me stress this point again: I have never had the intention of becoming a politician. I am a journalist and that is what I will always be for the rest of my life.
Why do Romanian politicians fear your investigation?
Politicians are scared of the things they've done and don't want the public to know about.  This time, the public efforts to discredit and attack me have to do with  the Minister of Interior's fear of being labelled a plagiarist. It is also related to the role as Secretary General that Lucian Bode plays within the National Liberal Party. He is the one who leads the National Liberal Party (NLP), despite the fact that the NLP President is Romania's PM, Nicolae Ciucă, but Ciucă has little political experience and is not suitable in politics. Thus, my revelations about Lucian Bode's academic fraud constituted a big blow, not only to the Government, showing that the Minister of Interior is a plagiarist, but also to the National Liberal Party [governing party and party of the President of Romania Klaus Iohannis]. Furthermore, my investigation represented a big blow to the Romanian Intelligence Service Academy, given that the rector of this institution coordinated Lucian Bode's thesis, a plagiarised doctoral thesis. Finally, it constituted a blow to the Babes Bolyai University, which tried to evade academic verification. They tried to make sure that it didn't come to this result. The attacks directed against me and the attempt to discredit the investigation peaked when eventually Babes Bolyai University admitted that the doctoral thesis was plagiarised.
So, we're talking about political interference.
For this last smear campaign, there is documented evidence of political interference. Two articles were published on two websites – websites with dodgy domains registered outside of Romania, and who share no details about their owners nor their editorial teams. The content published by these websites promotes propaganda for the National Liberal Party. Furthermore, an advertising agency that has stipulated contracts with the National Liberal Party disseminated those articles  on Facebook, popping up as sponsored articles on the social media platform. An investigation conducted by Misreport, a Romanian website dedicated to checking fake news and misinformation, found evidence that an advertising agency had been paid for the distribution of  those articles on Facebook, an agency which has contracts in place with the National Liberal Party, including the last rounds of elections that took place in 2020, both at local and central level.
Do you think it is strictly a personal attack or represents a broader threatening message directed at journalism in Romania?
There's evidence demonstrating that the Liberal National Party has paid for the smear campaigns and the online distribution of articles against me. The current attack is different from the previous ones, because it looks like the result of a very high concentration of forces. This sort of thing happens when there is someone giving specific orders. And such instructions could have originated within a political party. This is also a clear signal directed towards the very small community of independent journalists in Romania, the ones left. I would like to mention that at present in Romania, we experience a complicated situation when it comes to the press, and this is particularly difficult when we talk about Romanian mainstream press. About 80 percent of the press in Romania is funded by political parties, which translates into an extensive political control over the press. Under these conditions, characterised by a press industry which is almost entirely politically funded or controlled, independent voices and independent journalists who criticise politicians in the current governing coalition are extremely vulnerable and can easily come under attack, just as I have. To be sure, investigative departments are rare in Romania. There are a few small websites, teams of journalists who are not subjected to political control, and who must face the inherent difficulties of how to secure funding. Driven by their own passion for the press, for justice, and for truth, they continued to write and produce material on disturbing subjects for the political class.
Actually, you write as a freelancer for PressOne
Yes, I write as a freelancer for PressOne. I have a long-standing collaboration with them, and I realise that perhaps if it was not for them, the only way to publish my investigations would have entailed starting a blog. There are very low chances that I would have been published by an outlet in Romania.
Does morality have any value in the Romanian public space or not?
It has almost no value. This is the extremely sad conclusion I have come to after eight years of writing about academic misconduct. In Romania, politicians have made a major effort to normalise shame and to normalise plagiarism.
Have you been granted solidarity?
There were colleagues who supported me, there were colleagues who were with me during this period. International support really meant a lot to me. I received the support of international organisations, international media organisations which have a comprehensive understanding of the challenges posed to journalists in different countries where freedom of expression and physical integrity of journalists are under threat. The solidarity that I have received both in the country and especially from international media organisations and from some international institutions, European institutions, has mattered a lot. Theoretically, my profile is the most vulnerable, prone to being attacked and harassed. And for a freelance female journalist, it means a lot to know that you are not alone.
Do you perceive yourself as a role model for young female journalists?
Yesterday, I started the second academic semester at the University of Bucharest by delivering a class to a cohort of first year journalism students. We introduced ourselves, and one of the students told me that she enrolled because of me, because I was a role model for her. Her revelation made me very happy and excited, obviously. Up until today I was told by colleagues that what I do is extraordinary, but to see that I inspired a young 18-years-old woman to come to college because she saw what I do, well, I find it extraordinary. I realise that this has the power to impact female role models. In the past decades, when students joined our department, they were mostly inspired by showbiz and celebrities. Going to college because you have a role model, a female journalist doing investigative journalism, I think is a big change.
You have been nominated for the Jan Kuciak Award. How does it feel to be internationally recognized for the work you do?
First of all, it was a surprise and I feel very excited when I think about it, because you realise that you get international recognition after years of work, which for the most part has gone uncredited by other journalists in Romania. Because often it happened that the stories I covered did not appear in the mainstream press. When I was notified about the nomination, I got emotional, and I called my editor and shared the news with her. The joy, and the surprise, all rolled into one. We cried together on the phone. I would like to take the chance to mention how important Matthew Caruana Galizia's support was for this nomination. He encouraged me to enter and participate in this award. We met in 2019, at an event organised within the European Parliament. Shortly after, when I received a number of death threats, in a context in which police investigation stalled, I sought his help and he responded. Since then, we have stayed in touch.
This statement was coordinated by OBC Transeuropa as part of the Media Freedom Rapid Response (MFRR), a Europe-wide mechanism which tracks, monitors and responds to violations of press and media freedom in EU Member States and candidate countries.