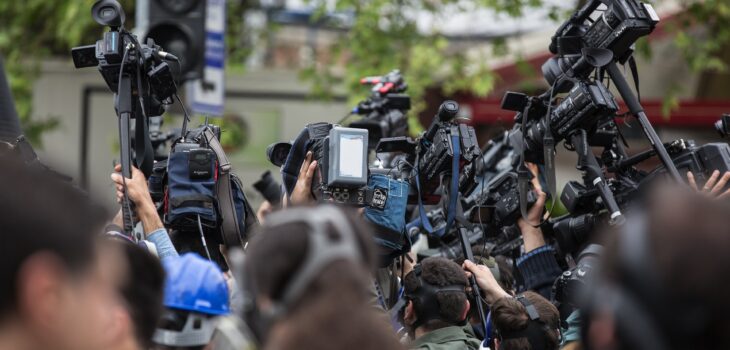 Netherlands: 8 out of 10 journalists have experienced violence or threats
In the Netherlands, more than eight in ten journalists have experienced some form of aggression of threat, according to a new study carried out by I&O research for PersVeilig and published on 5 June 2021.
Almost 700 journalists in the Netherlands responded to the new survey "Aggression and threats towards journalists 2021" which assessed the level of safety of journalists in the country. The results paints a bleak picture with more than 8 journalists out of 10 reporting having experienced violence or threats at some point in the course of their work. Four years ago, the figure was already high, but less so, with 61 per cent having been confronted with such a situation.
Looking at the different forms or aggression of threats, journalists were mainly confronted with verbal abuse (two thirds), threats or intimidation (half), legal threats or abusive lawsuits (one fifth) and physical violence (17%). Of all journalists, cameramen and photojournalists suffer the most and fear physical violence even more as their equipment make them more visible.
The research also shows that the frequency is increasing. Thirty per cent of the respondents have to deal with an incident every month or more, compared to 18 per cent in 2017. Journalists said the attacks come mainly from individuals (60%). While most respondents (3/4) believe that their employers takes sufficient measures to guarantee their safety, freelancers are less positive with 36% saying they are dissatisfied with their clients' response.
The PersVeilig survey shows that more needs to be done to encourage journalists to report the aggression and threats they face. Thirty per cent did not report the incident, and more than half of these did not think what they experience was bad enough to report it.
PersVeilig project manager Peter Ter Velde said that journalists still consider violence and threats to be part of their job: "They think it's not that bad and that 'nothing will be done' if they file a report. But when people cross the red line and express themselves verbally or violently in such a way that it has mental and physical consequences or equipment is damaged, it goes way too far. We really need to get rid of that attitude that this is part of the job." However, journalists massively agree (93%) that aggression and threats pose a real threat to press freedom.
As we have documented in the recent months, the survey clearly shows a deterioration in the safety of journalists in the Netherlands. It is worrying to say the least, because it is happening in a country where the attacks are generally taken seriously by the authorities. It is crucial not to let this trend take hold," said EFJ General secretary Ricardo Gutiérrez.
Recommendations include systematically conducting risk assessments before sending journalists into the field and sending journalists in groups of at least two.
PersVeilig is a unique collaboration between the Dutch journalists' union NVJ, the Association of Editors in Chief, Police and Public Prosecution Service and help journalists who encounter violence or aggression in the course of their work.