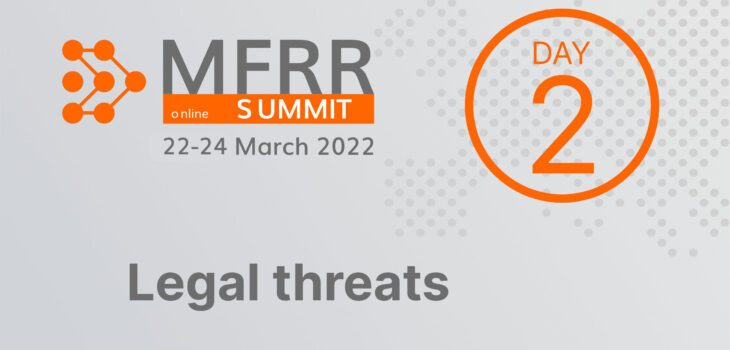 MFRR Summit 2022 | Day 2
Legal threats
23.03.2022
Day 2 of the Summit will open with an introductory video message from Věra Jourová, Vice President of the European Commission for Values and Transparency. This will be followed by a keynote from Matthew Caruana Galizia, investigative journalist and director of the Daphne Caruana Galizia Foundation. 
Speaker:
Marie Frenay, Member of Cabinet of Věra Jourová, European Commission Vice-President for Values and Transparency
Matthew Caruana Galizia, Pulitzer Prize-winning journalist and software engineer and Director of the Daphne Caruana Galizia Foundation
Push back against SLAPPs

Advancing protection against legal abuse
Across Europe, powerful and thin-skinned elites use Strategic Lawsuits Against Public Participation (SLAPPs) to threaten journalists and outlets into silence and stifle public debate and democratic participation by abusing the law. Recognition of the need to tackle this threat at the domestic level and as a regional phenomenon is growing, however. In addition to hearing from journalists who face SLAPPs, this panel will discuss the latest legislative and policy developments at the European Union and Council of Europe levels.
For the introductory case study, we will hear from a spokesperson for Luhze, a Leipzig students' newspaper. They faced vexatious legal action from a real estate company, who accused the student outlet of spreading false claims in relation to their reporting about the company's business model.
Speakers:
Sarah Clarke, Head of Europe and Central Asia at ARTICLE 19 (Chair)
Flutura Kusari, Senior Legal Adviser at ECPMF
Miquel Roig and Angel Villarino, Deputy Editor and Deputy Director at El Confidencial
Giulia Lucchese, Secretary of the Expert Committee on SLAPPs, Council of Europe
Case study
Access requested
Challenges to freedom of information
How can journalists force governments to disclose information? Freedom of Information Acts are usually described as the main legal tool to request data held by public authorities. However, public bodies do not always answer these requests and many petitions are challenged before the Courts. The panel will offer an overview of the most common difficulties faced by journalists when using these pieces of legislation, and will also focus on the main steps that could be taken to ensure that information is published when requested.
Alexander Fanta, journalist at Netzpolitik.org, will speak about his demand for transparency surrounding text messages between EU Commission President Ursula von der Leyen and Pfizer's CEO Albert Bourla regarding the deal to buy 1.8 billion doses of Covid-19 vaccine. The panel will also include other recent cases in which journalists have resorted to Freedom of Information Acts to demand information about public interest topics such as minutes of judicial meetings and algorithms used in decision-making processes.

Speakers:
Neus Vidal, Monitoring Officer at the European Centre for Press Freedom (Chair)
Helen Darbishire, Executive Director at AccessInfo Europe (UK)
Miguel Ángel Gavilanes, Journalist at Civio (Spain)
Besar Likmeta, Editor-in-chief at Reporter.al (BIRN, Albania)
Case study
Alexander Fanta, Netzpolitik (Belgium)
Spotlight interview
With Vladimir Motorin

In the second spotlight interview of the 2022 MFRR Summit, Vladimir Motorin, Editor-in-Chief of the TV Rain website, will discuss the ongoing oppression of independent journalism in Russia and his experience with Dozhd, also known as TV Rain, an independent Russian television channel.
Host:
Lutz Kinkel, Managing Director at the European Centre for Press and Media Freedom (ECPMF)
Speaker
Vladimir Motorin, Editor-in-Chief of the TV Rain website
Navigating practical support
Workshop: Discover PRESSProtect and the MFRR support package
Join our workshop to discover PRESSProtect, our new website that gathers different support offers from organisations all over the world for journalists and media workers in distress! Learn how to navigate the platform, dedicated to connecting journalists in Europe with supporting organisations.

PRESSProtect also gives an insight into the direct support the MFRR can provide. Get the opportunity to talk with the people behind our legal, practical and relocation support, to give us your feedback and to ask your questions.
Speakers:
Guusje Somer, FPU (Chair)
Tabea Caspary, Legal Assistant, ECPMF
Tomas A. Chang Pico, Senior Programme Officer, FPU
Alina Toropova, Journalists-in-Residence Programme Manager, ECPMF
Katrin Schatz, Project Manager Practical Support, ECPMF