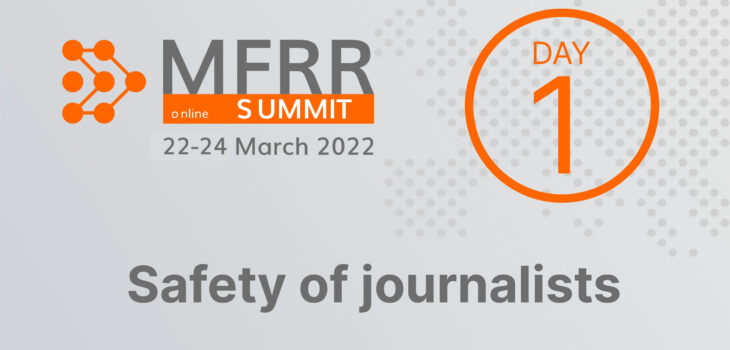 MFRR Summit 2022 | Day 1
Safety of journalists
22.03.2022
Opening message and keynote address
The MFRR Summit 2022 will open with an intro message from Laurens Hueting, Senior Advocacy Officer at the European Centre for Press and Media Freedom (ECPMF). This will be followed by a keynote address by Roberto Saviano.
Saviano is an Italian journalist, writer and screenwriter who uses literature and investigative reporting to tell the story of organised crime. He has been living under police protection since 2006.
Speakers:
Roberto Saviano, writer, author of Gomorrah and ZeroZeroZero (Italy)
#HereToReport
Journalists' safety at protests
Demonstrations remain flashpoints for media freedom violations across the region, as reporters continue to be faced with physical violence and verbal harassment from protesters and the police alike. The central question in this session is: how do we move towards a Europe where the realisation of the right to protest and the safety of journalists go hand-in-hand?
After an introductory case study on Emma Audrey's experience we will hear from the panel, chaired by Renate Schroeder with Monique Hofmann, Tony Rigopoulos and Peter Smets who will discuss their perspectives.
Speakers:
Renate Schroeder, Director of the European Federation of Journalists (Chair)
Monique Hofmann, Managing Director of the German Journalists Union (dju) in ver.di (Germany)

Tony Rigopoulos, Editor-in-Chief of Kouti Pandoras and journalist with Documento (Greece)
Peter Smets, President of the European Federation of Police Unions EU.pol (Belgium)
Case study:
A web of abuse
Threats to journalists' safety online
The digital space is one of the most common places where journalists are subjected to attacks and harassment in connection to their work. And while the threats and attacks take place in a digital setting, the implications of such actions affect the physical lives and mental health of the targeted journalists.
Following an introductory case study from an affected journalist, the session will continue with a panel discussion chaired by MFRR Coordinator Gürkan Özturan, with Guilherme Canela De Souza Godoi, who will present the ICFJ-UNESCO Global Study on Online Violence Against Women Journalists and Flora Schulte Nordholt, who will talk about the work of the Coalition Against Online Violence.
Speakers:
Gürkan Özturan, MFRR Coordinator at the European Centre for Press and Media Freedom (Chair)
Guilherme Canela De Souza Godoi, Chief of Section – Freedom of Expression and Journalists Safety at UNESCO 
Flora Schulte Nordholt, Policy and Advocacy Officer at Free Press Unlimited
Sitara Thalia Ambrosio, photojournalist and visual storyteller
Case study:
Burcu Karakaş, Journalist at Deutsche Welle
Spotlight interview
With Sevgil Musaieva
In the first spotlight interview of the MFRR Summit 2022, MFRR Coordinator Gürkan Özturan spoke to Sevgil Musaieva, a Ukrainian journalist and the Editor-in-Chief of Ukrayinska Pravda, about the specific challenges of practicing journalism during times of war.
Host:
Gürkan Özturan, MFRR Coordinator at the European Centre for Press and Media Freedom
Speaker:
Sevgil Musaieva, Ukrainian journalist and Editor-in-Chief of Ukrayinska Pravda.
Online Harassment: Building Resilience
Workshop: Threat modelling and tools for digital defence
Many journalists experience online abuse because of their work, from harassing comments on social media to direct threats and coordinated smear campaigns designed to silence freedom of speech. It takes its toll: Many who are affected by this feel insecurity, stress and depression, and it may in the long run lead to self-censorship. This introductory session will provide journalists with a global view of how online harassment plays out globally as well as providing journalists with practical tips to better protect themselves. Participants are encouraged to ask questions throughout the session.
Ela Stapley is a former journalist turned digital security adviser and founder of Siskin Labs. She works with journalists around the world to help them be better protected against digital threats.
Host:
Ela Palmer Stapley, Digital Safety Consultant