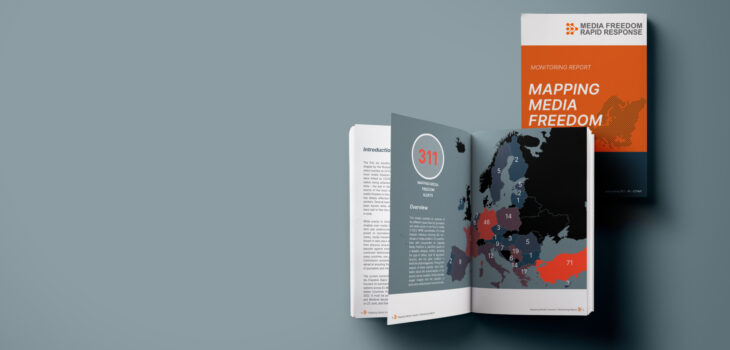 MFRR Monitoring Report: 311 European media freedom violations recorded in first half of 2022
The Media Freedom Rapid Response (MFRR) has published the latest edition of the MFRR Monitoring Report, outlining the state of media freedom throughout all European Union Member States and candidate countries from January to June 2022.
The Monitoring Report includes an analysis of the data compiled for Mapping Media Freedom, which collects and visualises all press freedom violations in the European Union and candidate countries. Although Moldova and Ukraine received candidate country status on 23 June 2022, alerts from these countries are not included in the 6 month analysis. However, given the severe impact Russia's invasion has had on journalist safety and media freedom, the report includes a dedicated chapter focusing on Ukraine.
Read below for an overview of the report's general findings. Specific thematic and country analyses can be accessed in the full report using the button below.
In the first six months of the year, 311 media freedom violations were recorded in 29 countries. These involve 552 persons or entities related to media, including journalists, media companies, family members, journalists' sources, and NGOs fighting for press freedom.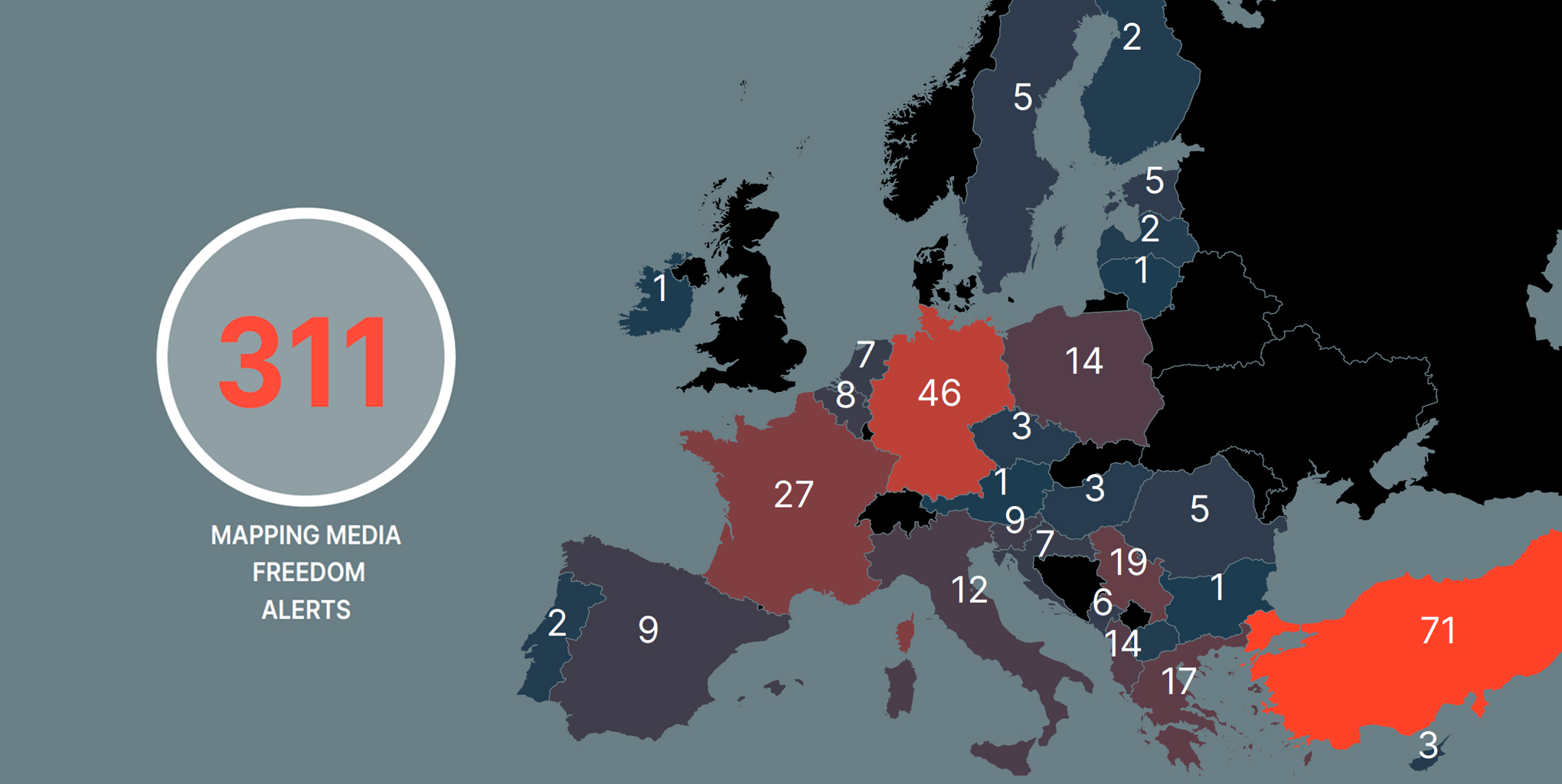 Verbal attacks, including harassment and threats, were the most common types of violations, making up 39.2% of the total number of attacks. This was followed by legal incidents (30.9%) and physical attacks (19.3%). Attacks to property made up 14.2% of alerts and 12.9% of alerts were linked to censorship, such as blocked access to information.
Among these attacks was the murder of Güngör Arslan, Managing Editor of the Turkish newspaper Ses Kocaeli.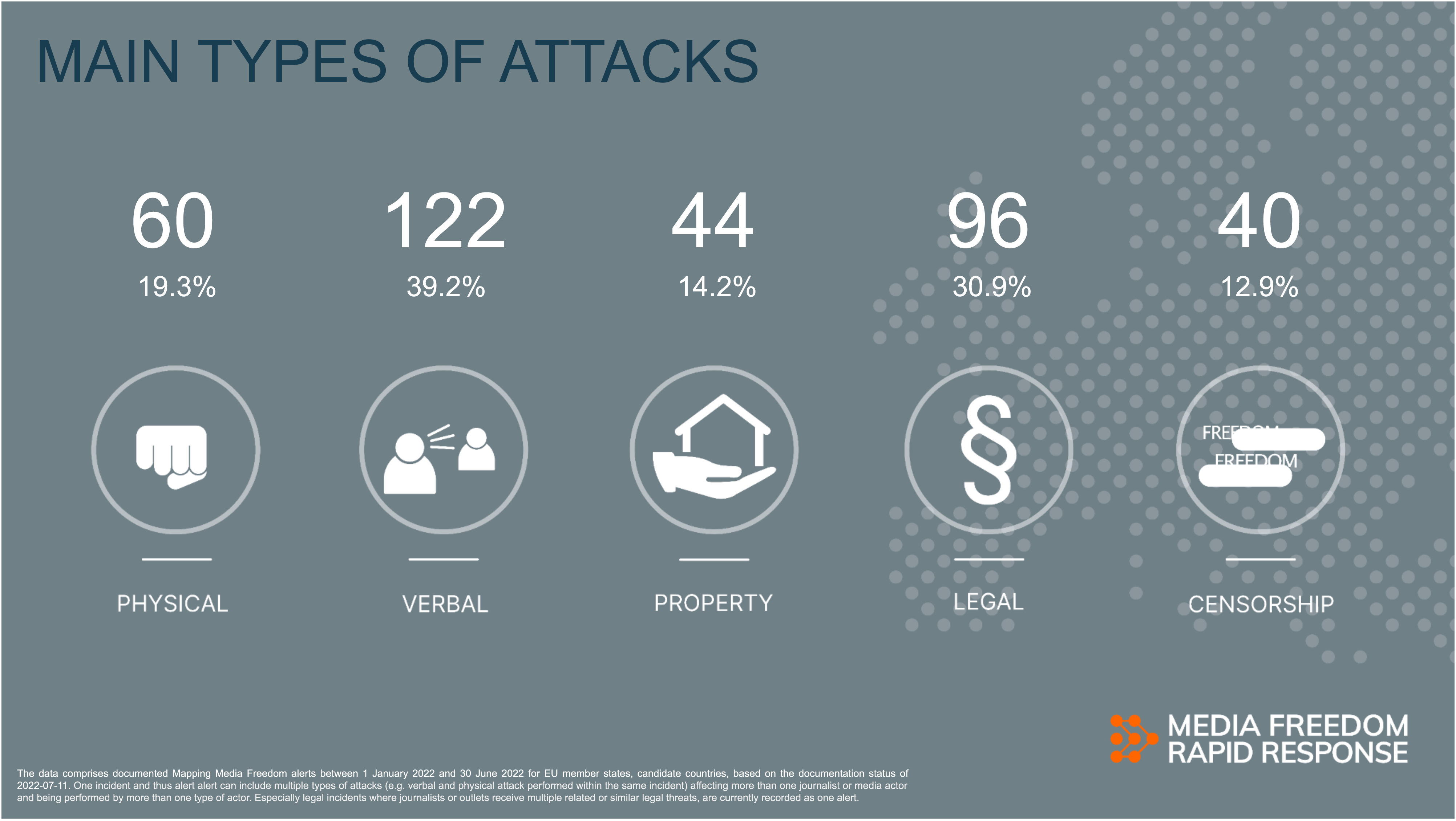 As for perpetrators, private individuals remained the main source of attacks to journalists and media workers (36.3%), followed by police and state security (17.7%) and government and public officials (11.6%).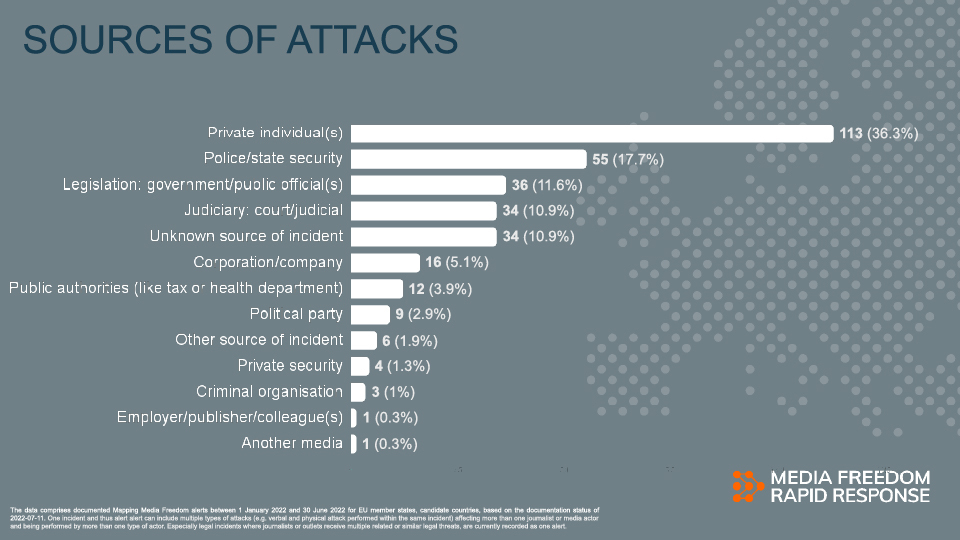 In terms of contexts in which violations took places, online and digital attacks increased significantly and became the most frequent context (22.8%) closely followed by attacks during protests (22.2%), violations in courts (15.1%), and in public places or on the street (11.3%).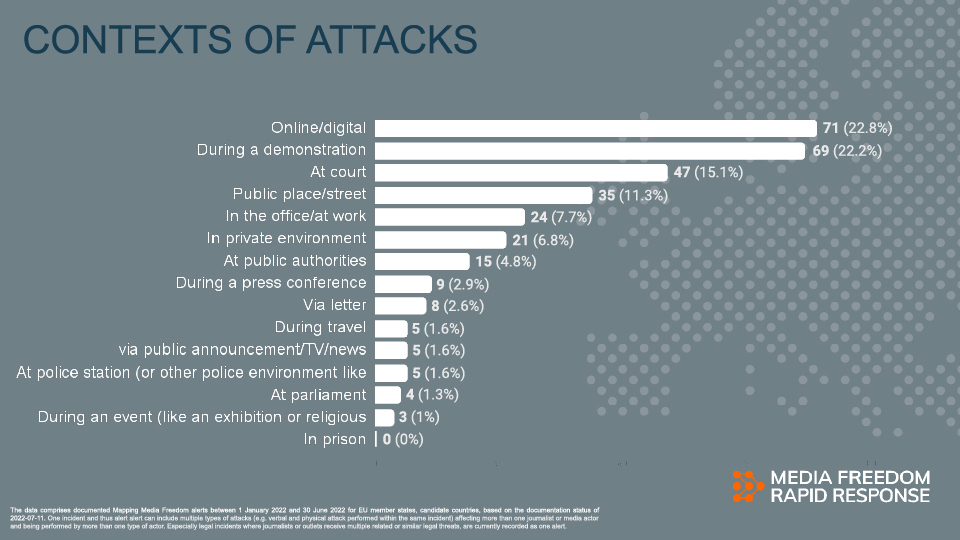 After providing a general overview of the alerts, the report continues with thematic analyses focusing on the war in Ukraine, compliance with some topics raised in the European Commission Recommendation on the protection, safety, and empowerment of journalists, and the surveillance of journalists and media workers. These analyses are followed by country reports summarising the state of media freedom in Turkey, Greece, Spain, Poland, Malta, France, Germany, Serbia, Belgium, and the Netherlands.
This statement was coordinated by the Media Freedom Rapid Response (MFRR), a Europe-wide mechanism which tracks, monitors and responds to violations of press and media freedom in EU Member States, Candidate Countries and Ukraine.