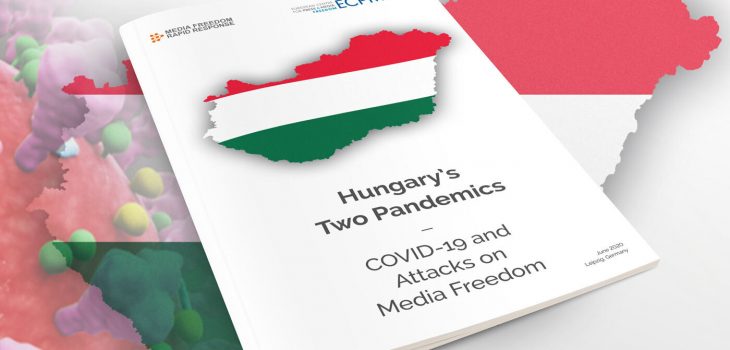 Hungary's Two Pandemics: COVID-19 and Attacks on Media Freedom
A legal opinion commissioned by the European Centre for Press and Media Freedom (ECPMF) finds that the Hungarian Government's response to the COVID-19 pandemic fails to live up to domestic or European legal standards and entrenches the country's attacks on independent media outlets, journalists and media workers.
In March 2020, the Hungarian Government proclaimed a State of Danger, passed a number of decrees and adopted a new bill; the Authorisation Act, in its response to the COVID-19 pandemic. The Authorisation Act gave the Government enhanced powers to rule by decree, enabling it to bring forward, amend or withdraw legislation and amend the Hungarian Criminal Code to expand the definition of the crime of "Scaremongering". Due to the ruling party coalition's two-thirds majority in Parliament, these changes were swiftly adopted and implemented. Recently, the Hungarian Government has stated its intention to repeal the State of Danger. However, it is unclear whether this repeal will cover all changes made and what mechanisms will be in place to identify and address the short- and long-term impact of these amendments on media freedom.
In this legal opinion commissioned by ECPMF as part of the MFRR, Dr. Polyák Gábor of the Mertek Media Monitor (CMDS) highlights the changes brought forward by the Hungarian Government, how they threaten the already-fragile state of media freedom in Hungary and what they mean for Hungarian and European legal standards.