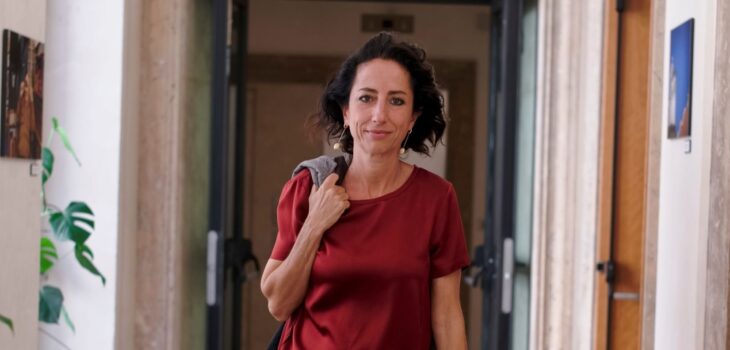 EFJ statement on Italian journalists locked up by Romanian anti-vax senator
A reporter and her crew working for Italian public broadcaster RAI were held in a Bucharest police station for several hours on Monday 13 December after an anti-vax Romanian Senator sequestered during an interview in her office. The European Federation of Journalists (EFJ) condemns the attack on the RAI crew and the unjustified arrest of the journalists by the Romanian police.
Italian journalist Lucia Goracci and her crew were detained after the alleged attack by the husband of Senator Diana Iovanovici Sosoaca, after the Senator blocked the crew in her office.
During her interview by Lucia Goracci, the Romanian senator decided to block the TV crew in her office and called the police.
The tension culminated with the intervention of the police in Sosoaca's office. The Italian journalists have accused the Romanian police officers not protecting them. They said they managed to leave Sosoaca's office only due to the intervention of the Italian Embassy in Bucharest.
Lucia Goracci was searched and questioned by the Romanian policemen. The TV crew was allowed to leave the police station only after 8 hours.
Lucia Goracci filed a complaint with the 4th police station in Bucharest against Senator Diana Şoşoacă, claiming that she was sequestered in Sosoaca's office and that the senator's husband, Dumitru-Silvestru Şoşoacă, bit her hand.
Dumitru Silvestru Şoşoacă was heard at the Prosecutor's Office, being also accused of attacking a police officer amid the incident with the Italian journalists. Silvestru Şoşoacă  was placed under a judicial control of 60 days.
The Romanian Government issued a statement, strongly condemning "any act of intimidation of journalists or obstruction of the right to free information of citizens. (…) Prime Minister Nicolae-Ionel Ciuca considers this incident unacceptable and categorically rejects the manifestation of differences of opinion through violence".
It seems that the anti-vax senator wanted to trap Italian journalists by making them look like troublemakers," said EFJ General Secretary Ricardo Gutiérrez. "The Romanian police should have protected them instead of arresting them. We call on the Romanian authorities to investigate this incident fully in order to establish the responsibility of the senator, her husband, but also the police officers who intervened.
This statement was coordinated by the Media Freedom Rapid Response (MFRR), a Europe-wide mechanism which tracks, monitors and responds to violations of press and media freedom in EU Member States and Candidate Countries.