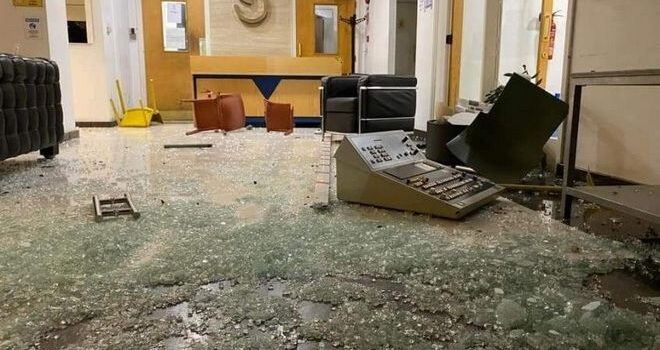 Cyprus: TV station attacked by crowd protesting Covid measures and vaccination
A large crowd of demonstrators against new Covid-19 measures and mandatory vaccination attacked the Cypriot TV station Sigma TV on 18 July. The mob vandalised the station's headquarters in Nicosia, throwing crackers, breaking windows and damaging cars outside the building. The European Federation of Journalists (EFJ) joined its affiliate, the Union of Cyprus Journalists, in condemning this brutal attack and calling on the authorities to conduct thorough investigations.
On Sunday evening, demonstrations against mandatory vaccination took place outside the Presidential Palace in the capital of Cyprus, Nicosia. Groups of protestors clashed with police and at around 9:30 PM local time, parts of the demonstration broke into the DIAS media group building that houses Sigma TV. The mob attacked staff, set cars in the parking lot on fire and brutally trashed the offices. Photos on the SigmaLive website show the extent of the damage.
The police confirmed that around 2,500 protesters took to the network. According to Sigma, "hooded thugs" attacked dozens of their colleagues working at the time. The police had entered the building to protect the workers.
Due to the rise in Covid-19 infections and the low rate of vaccination among young people in Cyprus, new measures were adopted, including mandatory vaccination and a so-called "SafePass" policy. In place since the 9th of July, the SafePass regulation obliges citizens aged 12 or older to possess and present either a vaccination certificate, proof of a Covid-19 contraction in the last six months or a negative PCR or rapid test with a 72-hour validity period. This SafePass is needed for entering the workplace, supermarkets, restaurants and other businesses.
The president of the Union of Cyprus Journalists, George Frangos, condemned the "abominable, insubordinate and dangerous" attacks which pose a threat to democracy, freedom of expression and freedom of the press.
"We call on the Prosecution Authorities of the state to act immediately and effectively so that those responsible for these illegal and anti-democratic acts are brought to justice and punished by example," stated the Executive Committee of the Union of Cyprus Journalists.
According to media reports, five people are to appear before the court in connection to the attacks on Monday and the police are looking for ten more people while identifying more suspects from CCTV footage.
Ricardo Gutiérrez, EFJ General Secretary, reacted: "We welcome the ongoing investigations into these intolerable attacks, which we strongly condemn. This level of violence and disregard for media professionals is unprecedented in Cyprus and is further evidence of the need for greater protection for journalists."